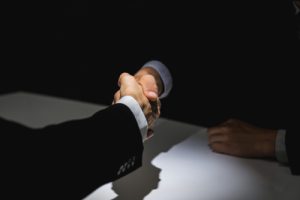 China remained neutral throughout the 13-month conflict between Russia and Ukraine/the West. However, Western powers continue to threaten China and claim they are plotting to send aid to Russia. The intensified attacks on China raise questions about whether Western powers are deliberately fomenting a fight. CIA Director William Burns said he was "confident" that China was colluding to send military aid to Russia, although there is no evidence of "actual deliveries of lethal equipment".
White House national security adviser and neocon Jake Sullivan has spoken out against China in recent speeches. Sullivan boldly declared that helping Russia would be a "serious mistake" for China and that the US planned to send a "strong signal" to China. Again, China has done nothing wrong. There is no evidence that China is helping Russia, and if so, it is not a crime, since Ukraine is not a member of NATO.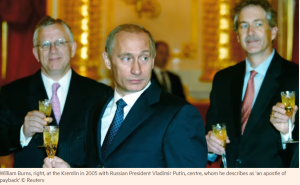 (Imagine above: William Burns, right, at the Kremlin in 2005 with Russian President Vladimir Putin, center, whom he describes as 'an apostle of payback' © Reuters)
Chinese Foreign Ministry spokesperson Mao Ning told the US that China will not heed coercion. "On the Ukrainian issue, China is actively promoting peace talks and facilitating a political settlement of the crisis. The US is in no position to point fingers at Sino-Russian relations. We do not accept US coercion or pressure," Mao said. China will not support the West's proxy war with Russia, but they seem to be pushing for China to prove its innocence by ostracizing Russia.
Chinese Foreign Minister Qin Gang expressed outrage at the sanctions imposed on China merely for collusion (ie no crime) with Moscow. "[China] did not provide weapons to any of the parties to the conflict. Why blame and impose sanctions on China? This is absolutely unacceptable," Qin said. "As if an invisible hand is pushing for the prolongation and escalation of the conflict. The Ukrainian crisis is a tragedy that could have been avoided."
This conflict could have been completely avoided if the Minsk agreements had been based on good faith. The war is a deliberate plot to establish a new world order and remove energy-rich Russia from the global economy. The Kiel Institute for the World Economy in Germany has calculated that as of January 15, Ukraine had been granted $152.7 billion. The US has sent more aid than any other country but blames its main trading partner for fueling international war. That is why there are no real diplomatic discussions with the current unfortunate crop of politicians. The current agenda is to demonize Beijing, as they did to Moscow, to force it to abandon its neutrality.