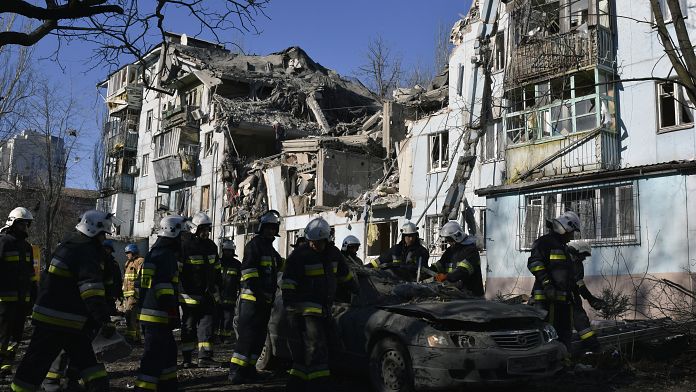 Ukrainian President Volodymyr Zelenskyy warned on Thursday that Kyiv would respond to Russia's latest missile attack on Zaporozhye both militarily and legally.
He made the comments during his late night performance.
"The occupier will inevitably feel our strength. The power of justice in every sense of the word. And I want to thank all our rescuers who have been clearing the rubble of the house since yesterday evening, the block of which was destroyed by a rocket," Zelensky said.
His speech followed meetings with Brazilian President Luiz Inácio Lula da Silva, where they discussed "diplomatic efforts to end Russian aggression."
Zaporozhye struck
On Thursday, the death of at least three people was confirmed after an attack by a Russian. In Zaporozhye, a rocket hit a five-story building.
Before Russia's invasion of Ukraine just over a year ago, the southeastern city had a population of 700,000. It was considered a strategic point for capturing Moscow, since the largest nuclear power plant in Europe is located in Zaporozhye.
Russia denies targeting civilians with drones and missiles, but aerial footage hovering over targeted cities showed destruction in many Ukrainian urban centers.
Bodies found on Borodianka
Three unidentified bodies were exhumed not far from the capital Kyiv.
Bodies continue to be found in a region that suffered destruction and occupation in the early days of the Russian invasion.
The regional police chief says they have found "1,373 bodies of our citizens" since the end of the occupation last year.