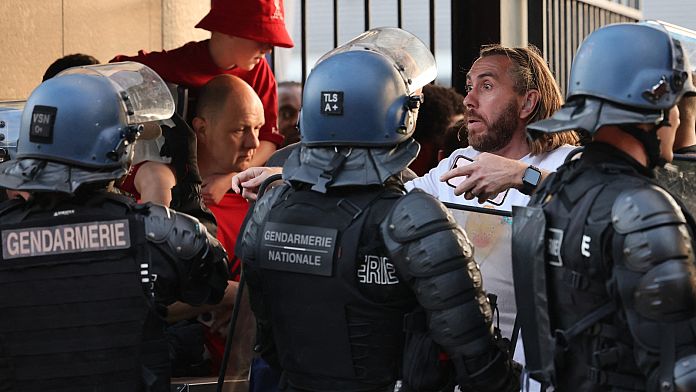 UEFA will offer ticket refunds to Liverpool fans affected by the chaos leading up to the Champions League final in Paris last year, European football's governing body announced on Tuesday.
The new refund scheme will cover all 19,618 tickets allocated to Liverpool against Real Madrid in May 2022.
Refunds will be available to all fans with tickets to the six gates of the Stade de France, where fans have complained of severe difficulty accessing the stadium.
Neutral and Real Madrid fans who meet the return criteria will also be eligible for a refund based on a request received through UEFA Support.
"We recognize the negative experience of these fans that day and through this scheme we will refund the fans who bought tickets and who were the most affected by the difficulties in accessing the stadium," said UEFA Secretary General Theodore Theodoridis. statement.
The decision comes later Investigation commissioned by UEFA cleared Liverpool fans of wrongdoing by blaming the governing body for a security glitch that nearly led to disaster.
The report also criticized French police and local authorities for using tear gas and pepper spray on Liverpool fans, mistakenly regarding them as a threat to public order.
Following the release of the statement, Theodoridis had previously apologized to traveling fans affected by the chaos.
Tens of thousands of football fans stood in crowded lines for hours, leading to dangerous stampedes as the situation deteriorated. Kick-off was delayed by 36 minutes as crowd control turned into chaos, particularly affecting the goal used by traveling Liverpool fans from England.
UEFA moved the final to the Stade de France from the Krestovsky stadium in St. Petersburg after Russian invasion of Europe February 24, 2022