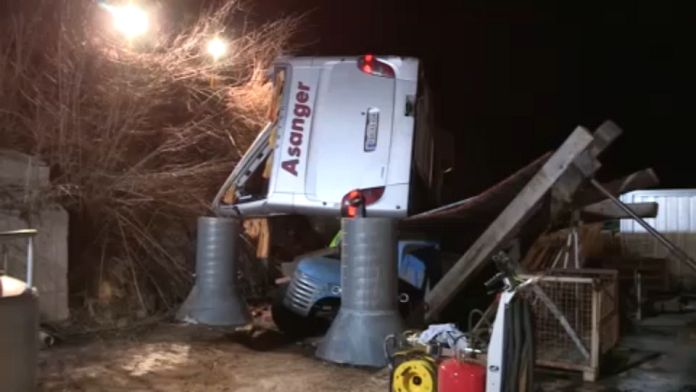 A car accident in northwestern Austria has killed one person and injured 32 others.
The group was returning from a bachelor party, which was a day of sledding in the snow, and the 31-year-old man who died in the accident was the groom.
The car was traveling from Lower Bavaria in Germany in the direction of Schladming, about 100 kilometers southeast of Salzburg.
According to eyewitnesses, the car rolled over several times and stopped at the foot of an embankment on the flat roof of the company building.
A 31-year-old man died at the scene of the accident. Two people, including a 51-year-old bus driver, were seriously injured.
There were firefighters in another vehicle immediately behind the bus, who immediately acted as first responders.
In addition, the bases of the Red Cross and the fire brigade were nearby, so more than 160 rescuers arrived on the scene within ten minutes.
"For us, the problem was that the bus fell on the roof of the garage," said Norbert Pichler, operations manager for the Schladming Red Cross. "In cooperation with the fire brigade, we tried to rescue the stranded people. The rest, who were outside, were taken to a warm place in the garage, where we could provide transportation depending on priority."
Further investigation into the exact causes of the accident is ongoing. The bus driver cannot yet be interrogated because of his severe injuries.