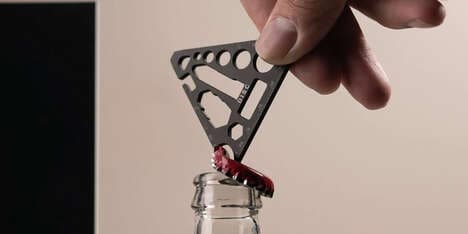 Disc has gone one step further with the release of a brand new titanium multitool that aims to stand out in an increasingly crowded multitool market by offering features that are completely new in concept and innovation.
The Triangle Titanium Multi-Tool immediately raises eyebrows by offering an oxygen wrench that is designed to fit over the oxygen tank bolts. Designed to open portable oxygen cylinders, this feature fits standard oxygen cylinder valve stems and is designed to ease the opening of heavy duty valves.
Another eye-catching feature is the headphone holder, which Disc says offers a scratch-free way to keep your headphones from getting tangled or damaged.
The Triangle Titanium Multitool is currently the subject of a Kickstarter campaign, and campaign backers can currently purchase the multitool for a $39 deposit.
Image credit: disc