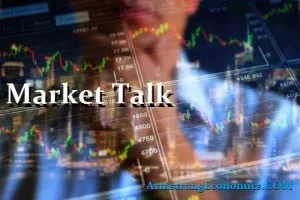 Asia:
JPMorgan is offering a new China-weighted Asian credit index alongside its existing $85 billion Asian credit index amid rising geopolitical tensions and waning appetite for Chinese real estate bonds, Reuters reported. For the new index, JPMorgan has proposed reducing China's weight to nearly 30%, compared to around 43% in its existing JPMorgan Asia credit index, in which China is the largest component, according to people familiar with the matter. . The move comes after JPMorgan initially offered to expand the existing JACI, but with China's weight cut to 29.86% from 43.14% currently, according to a proposal presented to investors in January and reviewed by Reuters and a second source and two other people.
On the main Asian stock markets today was a negative day:
The NIKKEI 225 was down 29.52 points, or -0.11%, at 27,423.96.
Shanghai fell 9.13 points or -0.28% to 3,258.03.
The Hang Seng shed 66.53 points or -0.33% to hit 19,943.51.
The ASX 200 was down 82.20 points, or -1.12%, at 7,224.80.
Kospi fell 20.97 points or -0.87% to 2402.64.
SENSEX was down 175.58 points or -0.30% to 59,288.35.
Nifty50 fell 73.10 points or -0.42% to 17,392.70.
The main Asian currency markets had a negative day today:
AUDUSD fell 0.00001, or 0.00%, to hit 0.67249.
NZDUSD fell 0.00001, or 0.00%, to hit 0.61599.
USDJPY fell 0.206 or -0.15% to hit 136.254.
USDCNY edged down 0.01574 or -0.23% to hit 6.96436.
Precious metals:
Gold has risen in price by $5.83/t. or 0.32% up to 1816.64
Silver fell by $0.077/t. ounces or -0.37% to 20,692
Some economic news from last night:
Australia:
The company's gross operating profit (QoQ) (Q4) increased from -11.5% to 10.6%
New Zealand:
Core retail sales (QoQ) decreased from 0.5% to -1.3%.
Retail sales (QoQ) (Q4) decreased from 0.4% to -0.6%
EUROPE/EMEA:
European high-yield corporate debt is becoming increasingly vulnerable as the global economy slows, suggesting a higher risk of default, Deutsche Bank said in a statement Monday. While this sector covers issuers rated BB+/BA1 and below, those with a Single B rating or below currently make up 38% of the Deutsche High Yield Bond Index, the highest in a decade since the real estate downgrade wave. Sentiment in Europe has been boosted by the recent sharp drop in energy prices and the reopening of the Chinese economy, but several headwinds remain, including the delayed impact of a European Central Bank rate hike and the risk that a US recession will drag European corporations in , Deutsche said. Deutsche said it expects around €55 billion in high-yield bonds in 2023, up €15 billion from 2022, and expects a modest increase in M&A and leveraged buyout activity in the first half of the year.
Major European stock markets had a green day:
CAC 40 increased by 108.28 points or 1.51% to 7,295.55.
The FTSE 100 rose 56.45 points, or 0.72%, to 7,935.11.
The DAX 30 was up 171.69 points or 1.13% at 15,381.43.
Today was a mixed day in the major European currency markets:
EURUSD rose 0.0045 or 0.43% to hit 1.05910
GBPUSD rose 0.00863 or 0.72% to hit 1.20303.
USDCHF shed 0.0032 or -0.34% to hit 0.93760.
Some economic news from Europe today:
euro area:
Money supply M3 (y/y) (January) decreased from 4.1% to 3.5%
USA/AMERICA:
The US National Association of Realtors reported an increase in home sales in January of this year, primarily due to a short-term drop in rates. Contracts rose 8.1% last month compared to December, marking the second straight month of positive sales. However, year-on-year home sales fell 24%. 30-year fixed-rate mortgages fell to 6% in January but are now pushing the 7% level. Due to historically limited supply and high rates, the positive trend is not expected to continue.
US Market Closing:
The Dow rose 72.17 points, or 0.22%, to 32,889.09.
The S&P 500 rose 12.2 points, or 0.31%, to 3982.24.
The Nasdaq added 72.04 points, or 0.63%, to 11,466.98.
Russell 2000 advanced 5.78 points or 0.31% to 1896.27.
Closing the Canadian Market:
The TSX Composite advanced 40.94 points or 0.2% to hit 20,260.13.
The TSX 60 rose 2.08 points or 0.17% to hit 1220.25.
Brazil Market Closing:
Bovespa was down 87.38 points, or -0.08%, at 105,711.05.
ENERGY:
Oil markets have had a mixed day today:
Crude oil fell by $0.397/bbl. or -0.52% to 75.923.
Brent fell $0.415/bbl, or -0.50%, to $82.745.
The price of natural gas rose by $0.1266/MMBtu, or 4.97%, to $2.6746.
Gasoline was down $0.0009/gallon, or -0.04%, at $2.3578.
Heating oil rose $0.0312 a gallon, or 1.12%, to $2.8274.
The above data was collected around 12:10 pm EST on Monday.
Commodity growth leaders: orange juice (7.89%), hot-rolled steel (4.80%), natural gas (4.97%) and platinum (3.40%).
The main losers were oats (-5.43%), rhodium (-6.14%), wheat (-2.33%) and coal (-5.83%).
The above data was collected around 12:15 pm EST on Monday.
BONDS:
Japan 0.502% (+0.2 bp), USA 2 4.79% (-0.014%), USA 10 3.9238% (-2.52 bp); US 30's 3.92% (-0.015%), Bunds 2.581% (+5.2 bp), France 3.058% (+4.5 bp), Italy 4.425% (-0.9 bp), Turkey 10.27% (+4 bp), Greece 4.424% ( + 1.1 bp), Portugal 3.474% (+5 bp); Spain 3.624% (+3.7 bp) and UK gilts 3.808% (+15.1 bp).