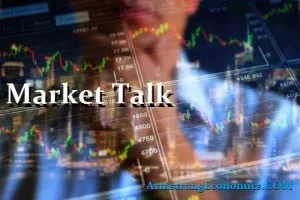 Asia:
South Korea's producer price inflation slowed for the seventh consecutive month to its lowest level in 22 months, central bank data showed on Thursday. According to the Bank of Korea, the producer price index in January rose by 5.1% compared to last year, while in December it rose by 5.8%. This was the slowest annual growth since March 2021. The annual rate continued to decline for the seventh straight month after hitting a nearly 14-year high of 10.0% in June 2022. On the month, however, the index rose 0.4% after falling for two consecutive months, mainly due to higher utility costs.
On the main Asian stock markets today was a negative day:
The NIKKEI 225 was down 368.78 points, or -1.34%, at 27,104.32.
Shanghai fell 15.38 points or -0.47% to 3,291.15.
The Hang Seng slipped 105.65 points, or -0.51%, to 20,423.84.
The ASX 200 fell 21.80 points, or -0.30%, to trade at 7,314.50.
Kospi was down 41.28 points or -1.68% to 2417.68.
SENSEX was down 927.74 points or -1.53% to 59,744.98.
Nifty50 fell 272.40 points or -1.53% to 17,554.30.
Today was a mixed day for the major Asian currency markets:
AUDUSD fell 0.00282 or -0.41% to hit 0.68238.
NZDUSD rose 0.00218 or 0.35% to hit 0.62338.
USDJPY shed 0.287 or -0.21% to hit 134.703.
USDCNY rose 0.00965 or 0.14% to hit 6.90135.
Precious metals:
Gold fell by $1.51/t. or -0.08% to 1,832.81
Silver fell by $0.19/t. ounces or -0.87% to 21,637
Some economic news from last night:
Australia:
The volume of completed construction works (q/q) (Q4) decreased from 2.2% to -0.4%.
Price index for wages (QoQ) (Q4) decreased from 1.0% to 0.8%
New Zealand:
RBNZ interest rate decision increased from 4.25% to 4.75%
Trade balance (MoM) (January) decreased from -636 million to -1,954 million.
Trade balance (YoY) (January) decreased from -14,630 million to -15,480 million.
Some economic news for today:
India:
The M3 money supply decreased from 9.8% to 9.5%.
Hong Kong:
GDP (QoQ) (Q4) increased from -2.6% to 0.0%
GDP (YoY) (Q4) flat at -4.2%
EUROPE/EMEA:
The post-pandemic recovery in global growth and inflation last year meant that the amount of debt spilling over the global economy declined in dollar terms for the first time since 2015, a widely monitored study found. According to a report by the Institute of International Finance released on Wednesday, the face value of global debt has fallen by about $4 trillion, bringing it partially back below the $300 trillion threshold broken in 2021. On the contrary, the debt stock of developing countries has reached a new record high. out of $98 trillion, with the largest increases in Russia, Singapore, India, Mexico and Vietnam. Meanwhile, stronger economic activity and higher inflation, which are driving down debt levels, caused the global debt-to-GDP ratio to fall more than 12 percentage points to 338% of GDP, marking the second straight annual fall.
Major European stock markets had a mixed day:
CAC 40 fell 9.39 points or -0.13% to 7,299.26.
The FTSE 100 fell 47.12 points, or -0.59%, to 7,930.63.
The DAX 30 rose 2.27 points or 0.01% to hit 15,399.89.
Today was a mixed day in the major European currency markets:
EURUSD fell 0.0021 or -0.20% to hit 1.06250
GBPUSD fell 0.00439 or -0.36% to hit 1.20711.
USDCHF rose 0.00206 or 0.22% to hit 0.92976.
Some economic news from Europe today:
Germany:
German CPI (MoM) (February) up from -0.8% to 1.0%
German CPI (YoY) (February) increased from 8.1% to 8.7%
Business expectations in Germany (February) increased from 86.4 to 88.5.
Germany's current score (February) is down from 94.1 to 93.9.
The German Ifo Business Climate Index (February) rose from 90.1 to 91.1.
Italy:
Italian CPI (MoM) (Jan) fell from 0.3% to 0.1%.
USA/AMERICA:
Inflation remains a top concern for the Federal Reserve, as indicated in minutes released this Wednesday. The central bank only approved a 25 basis point increase at its last meeting, the smallest increase since March last year. However, some members felt that a 50 basis point hike would be appropriate as inflation remains "well above" the 2% target. "Participants noted that inflation data over the past three months showed a welcome decline in monthly price growth, but stressed that much more evidence of progress across a broader price range would be needed to ensure that inflation is on a sustained decline. . way," the protocol says. A tight labor market also remains problematic, and international conflicts exacerbate economic uncertainty. Officials have indicated that further increases are almost guaranteed in the near future.
US Market Closing:
The Dow was down 84.5 points, or -0.26%, at 33,045.09.
The S&P 500 was down 6.29 points, or -0.16%, at 3991.05.
The Nasdaq rose 14.77 points, or 0.13%, to 11,507.07.
Russell 2000 advanced 6.46 points or 0.34% to 1894.67.
Closing the Canadian Market:
The TSX Composite was down 59.31 points, or -0.29%, at 20,193.33.
The TSX 60 edged down 4.58 points or -0.37% to hit 1,217.17.
Brazil Market Closing:
Bovespa fell 2,024.87 points or -1.85% to 107,152.05.
ENERGY:
Oil markets have had a mixed day today:
Crude oil fell $2.101/bbl, or -2.75%, to $74.259.
Brent fell $2.151/bbl, or -2.59%, to $80.899.
Natural gas rose $0.1717/mbtu, or 8.28%, to 2.2447.
Gasoline fell $0.0845/gallon, or -3.50%, to $2.3311.
Heating oil fell $0.0547/gallon, or -1.96%, to $2.7372.
The above data was collected around 13:50 EST on Wednesday.
Commodity price risers: coffee (2.16%), HRC steel (5.66%), natural gas (8.28%) and orange juice (2.29%).
The main losers were gasoline (-3.50%), lean pigs (-2.84%), crude oil (-2.75%) and Brent oil (-2.59%).
The above data was collected around 2:00 pm EST on Wednesday.
BONDS:
Japan 0.504% (-0.1 bp), USA 2 4.69% (-0.046%), USA 10 3.9020% (-5.1 bp); US 30's 3.92% (-0.055%), Bunds 2.519% (-1.9 bp), France 3.000% (-1.6 bp), Italy 4.474% (+0.8 bp), Turkey 10.30% (+10 bp), Greece 4.488% ( + 3.9 bp), Portugal 3.446% (+0.3 bp); Spain 3.586% (-1.7 bp) and UK gilts 3.602% (-1.4 bp).