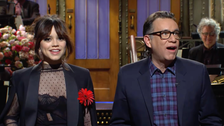 "SNL" master Jenna Ortega looped in special guest -"SNLalum and Wednesday co-star Fred Armis – to help her during her monologue this weekend.
The 20-year-old who starred in the recently released horror movie "Creek VI", noted that she is the youngest presenter"Saturday night lifeuntil now, before she delved into her entertainment resume.
"I was discovered when my mother posted a video of me online. facebook which someone explained to me is similar to tick tock but for racism instead of dancing," Ortega joked.
She later stated that her personality is akin to her "dark and twisted" roles, similar to those in "X" and "Wednesday".
"I think there's something about my face that people see it and say, 'Hey, let's get some blood on it,'" Ortega joked.
"Wow, this is what it's like to be turned on"Saturday night life", – said Armisen, admiring the audience.
"You were on the show for 11 seasons," Ortega said.
"Oh, that's nice, thanks," Armisen replied.
You can watch Ortega's full Saturday Night Live monologue below.