Xi has shifted China's trajectory from the "reform and opening up" of his predecessors to a more domestic and state-centric model of economic development.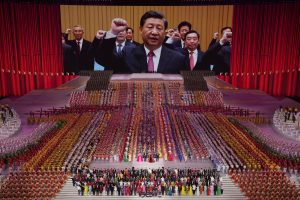 Chinese President Xi Jinping leads other senior officials as they take the party's vows on screen during a gala ahead of the 100th anniversary of the founding of the Chinese Communist Party in Beijing, June 28, 2021.
Credit: AP Photo/Ng Han Guan, file
The cover of the very first issue of The Diplomat Magazine was dedicated to the Chinese economy. And with good reason: China is not only the world's second largest economy, but also the main trading partner of almost all Asian countries. It is also an important element of global supply chains, as the COVID-19 pandemic and its associated disruptions to these supply chains have made abundantly clear.

IN Issue 1 (December 2014)Michael Pettis learned the lessons that Xi Jinping, who just two years into his tenure as top leader, could learn from Deng Xiaoping to take China's economic reform and opening up to a new stage. Since then, the magazine has repeatedly explored the relationship between Chinese politics and economics. IN Issue 7 (June 2015)Yukon Huang researched the causes and consequences of corruption in China; Issue 25 (December 2016) saw Kerry Brown announce the economic implications of the 19th National Party Congress, a year away. Elsa Kania explained the infamous "Made in China 2025" policy – ​​one of the first signs of a rejection of China's "openness" – in Issue 51 (February 2019).

China's economic direction will continue to be critical for the Asia-Pacific region and the world. In this story, Sarah Hsu brings together pieces reviewed in individual past journal articles to explain the overarching change in China's economic trajectory since Xi Jinping came to power in late 2012.

— Shannon Tizzy
Xi Jinping, who won an unprecedented third term as General Secretary of the Chinese Communist Party (CCP) last year, is widely regarded as the most powerful Chinese leader since Mao Zedong. He consolidated his power through anti-corruption purges, crackdowns, increased censorship and surveillance. Seeing a strong China as a model for a communist state, Xi abandoned the tendency of his predecessors to steer China towards comparison with Western economies.
In other words, Xi has shifted China's trajectory from the "reform and opening up" of his predecessors to a more domestic and state-centric model of economic development. This was partly shaped by an external environment led by the United States that was becoming increasingly hostile to the Chinese state and technological development, as well as a global pandemic that threatened to create social chaos.
These external influences are reflected in Xi Jinping's turn away from private-sector-led reforms designed to make China more attractive to foreign investors to a more cautious and balanced approach to economic development, embodied in the "common prosperity" campaign. Shared Prosperity refers to the terminology used by Xi's more conservative predecessors in the Communist Party and emphasizes Xi's position as a communist leader first and an advocate of economic growth second.