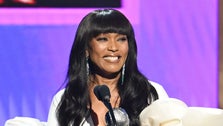 Bassett, who has won multiple NAACP Image Awards in her career, also won the awards for Outstanding Actress in a Drama Series and Outstanding Supporting Actress in a Motion Picture at the ceremony.
"I think Angela Bassett did it," she joked.
Bassett, in an earlier acceptance speech, acknowledging her role on 9-1-1, thanked series creator Ryan Murphy for his vision along with others associated with the show.